Purposeful.  Practical.  Preservation.
Why that name?
Barakah Heritage Farm believes in preserving the heritage livestock breeds and heirloom plants whenever possible.   These old time-tested genetics are uniquely suited to small farms and local markets.  What we look for in a plant:  hardy, low maintenance, easy to save seeds or cuttings and propagate.  What we look for in livestock:  Good mothering ability, parasite resistance, low input (needs little or no supplemental feed), hardy, foraging ability, gentle and easy to handle.  Poultry should go broody and successfully raise offspring.
What we have and what we are planning:
Muscovy ducks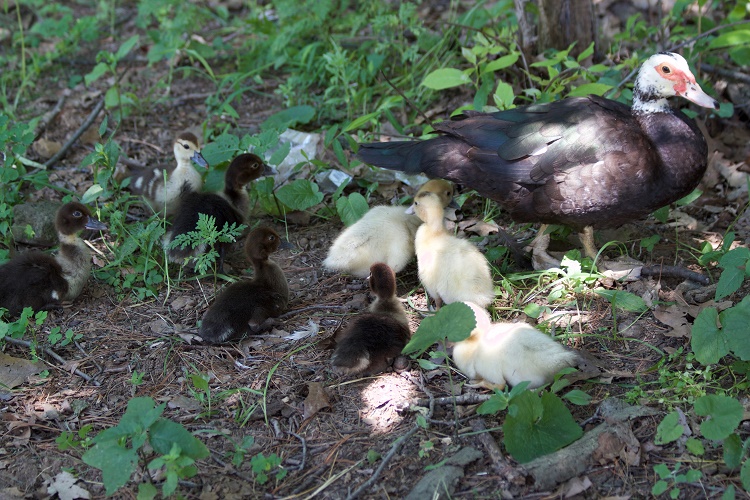 These are not a heritage breed.  However, these muscovies come from homestead-suitable bloodlines carefully selected over many generations for foraging ability, quick gains, large size and temperament.  These are known as meat ducks but are also decent egg layers.  They are quiet, do not require a pond, roost high, raise several batches of ducklings annually (usually 10+ ducklings per nest) and the adults will eat up to a pound of flies daily – each.  Ducks are generally more gentle to garden plants (except greens) and will not uproot or eat plantings the way chickens will.  The meat is dark, more like roast beef, and lean.  These ducks have large claws for tree climbing, and they know how to use them.  Between the claws and the large size, they are more resistant to the smaller predators.  We keep our muscovies for insect control and eggs.
Local pickup or delivery (with appropriate safety measure and distancing) and we can ship! We do not offer meat ducks.  
| | | |
| --- | --- | --- |
| Eggs for eating | $1/each | $7/dozen |
| Hatching eggs from select hens | $2/each | $20/dozen |
| Adult starter flock (1 drake, 2 hens) | $79 (includes mentoring) | |
Email us to get on the waiting list!
Chickens
We have tried many breeds.  Buckeyes are a favorite heritage breed that meet all our requirements of dual-purpose, good brooding and chick rearing, and good foragers.  We hope to add some Jersey Giants and Transylvanian Naked Necks (Naked Necks have bare necks and heads like turkeys) for their larger size to discourage predators, God willing.
We do not offer meat chickens. 
We have been raising Fainting Goats, also called Tennessee Goats, Myotonic Goats, or Nervous Goats since the early 2000s.   Buyers have sought out our goats from all over the eastern seaboard and Canada for their multiple generations raised without vaccines, regular chemical deworming (we have needed chemicals twice in 9 generations) and GMO feeds.  Technically this breed is classified as a meat breed.  However, the original heritage myotonics were a dual and triple purpose goat.  Myotonic milk is very rich, more like half-n-half than milk.  Does produce up to a pint daily.  Myotonics also excel as a low-input meat goat, with some slaughtering at a 4:1 meat:bone ratio.  Myotonics grow more slowly, but that is offset by their low or no input diet, making their per meat pound production cost lower overall.  Some myotonics also produce a cashmere.  This cashmere is fine but shorter, and must be blended with a longer fiber for spinning.    They are a quiet breed, and also less likely to climb or challenge fences as adults.  Our myotonics keep our pasture plants balanced and produce milk and fiber for us.  Kids are sometimes for sale for breeding or pets.  See our goats here.
We do not offer milk or milk products at this time.  We do not offer meat goats. 
Donkeys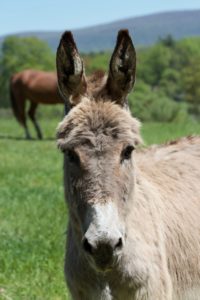 We added donkey Josephine as additional protection for the goats  and for possible muscle power or mule production in the future.  So far, Josephine shows no interest in goat guarding but does alert us to visitors.  We hope she will eventually be trained for a pack.
Horses
All classes and programs are open, with covid19 safety modifications.
The Gardens & Produce For Sale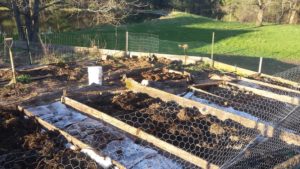 We have restored and expanded the original raised-bed gardens at the farm.   In 2020 we added additional fresh herbs, cut flowers, and more vegetables.  Whenever possible, we plant heirloom open-pollinated varieties.  Our planting list this year included cantaloupe, yellow squash, zucchini, sugar pumpkin, acorn squash, pickling cucumbers, lemon cucumbers, swiss chard, kale, spinach, mixed lettuce, green onions, onions, garlic, red potatoes (test bed), white potatoes (test bed), cabbage, turnip (test bed), carrots (test bed), 3 heirloom radish varieties, green peppers, and several heirloom tomato varieties.  We also nurtured some edible wild plants that volunteered in the garden, such as purslane.  We also planted herbs cilantro/coriander, dill, basil, parsley and catnip.
We originally planned other bed types, but it became clear right away that Hugelkultur beds would not work with our unusual high rainfall and the number of springs.  As there were already raised beds on site, we started with those.  We may add Eden Gardening in 2021 using locally-sourced wood chips.  Raised beds are working really well for our climate and soil.
The land has also offered up some interesting wild foods.  We have Autumn Berries from the Autumn Olive trees, wild grapes, a large stand of garlic, older fruit trees that are still producing, hidden among the hardwoods, a large variety of herbs such as mullein, purslane, yarrow, plantain, witch hazel, and sassafras, as well as fiddle heads, and catttails.  (We explore and sample some of these on our Farm Tour.)
| | |
| --- | --- |
| | |
| Early summer and the gardens are just starting to produce. | Lush August garden. Only a few bare spots where new herbs and greens are seeded. |
In 2021 we are planning seed production for sprouted poultry feed, possibly black oil sunflowers, heirloom corn, heirloom peas, millet and amaranth.   Additionally, we hope to start incorporating more perennials, especially fruit and nut species, both in our gardens and along the multi-use trails.
For Guests & Tour Participants Only 
| | | |
| --- | --- | --- |
| 2020 Produce For Sale – purchase HERE | | |
| Herbs: | Price per bunch: | Estimated Availability Date/Sold Out |
| Basil | | Done |
| Cilantro | | Done |
| Dill | | Done |
| Chive | | Done |
| Parsley | Herb assortment $4 | Available now |
| Vegetables: | Price per item: | |
| Tomato | $1 ea | Done |
| Cucumber | | Done |
| Lemon Cucumber | | Done |
| Zucchini | | Done |
| Yellow Squash | | Done |
| Radish | | Done |
| Swiss Chard | $2 bunch | Available now |
| Kale | $2 bunch | Available now |
| Pumpkin | | Done |
| Pepper | | Done |
| Lettuces | | Done |
| Green Onions | $2 bunch | Available now |
| Cut Flowers: | Price per bouquet: | |
| | | |
| Sunflowers | | |
| Mixed wildflowers | | |
Other Features Plus Future Plans
All public activities are open, with covid19 safety modifications.
We originally planned a mowed-grass labyrinth large enough to walk or enjoy with the horses.  Our preferred location has turned out to seasonally be too wet to handle heavy traffic and is now being converted to duck pasture.  We may relocate the planned labyrinth to the top of the property.  Watch for announcements.  Meanwhile, here is a simple page showing how to create your own grass labyrinth.  
The farm has a stocked fishing pond (catch and release only) with small mouth bass and bluegill.  In 2021 we plan to do some additional pond plantings, God wiling, to improve the water quality and perhaps produce some interesting water crops.
Planned for 2021 is an equine obstacle course.  Watch for more details coming in winter 2020, God willing.
Finally, we and the horses designed a hybrid system of intensive rotational grazing and exercise runways/bike/walking trails.  The horses laid out their preferred trails in the first 2 years over a 35 acre plot, and now we are working within those trails to establish the rotational grazing plots for land restoration, as well as walking and biking trails to be used when the horses are in the barn resting.  Stay tuned for drawing, diagrams and photos.